Our health and well-being are products of not only the health care we receive and the choices we make, but also the places where we live, learn, work, and play. Community health improvement (CHI) is a process to identify and address the health needs of communities. Because working together has a greater impact on health and economic vitality than working alone, CHI brings together health care, public health, and other stakeholders to consider high-priority actions to improve community health.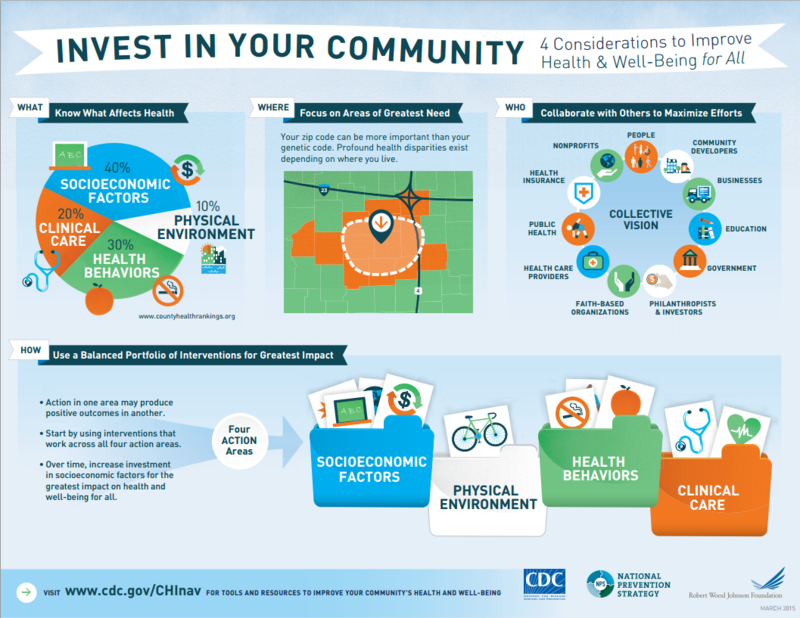 The Healthy St. Mary's Partnership (HSMP) is one of 9 communities selected  to participate in the CDC Community Health Improvement (CHI) Learning Collaborative.
The CHI Learning Collaborative aims to provide an opportunity for new or existing CHI partnerships to learn about the CHI process and its underlying principles in greater depth, and use the CHI Navigator to strengthen their ability to conduct an effective and collaborative CHI process.
CHI Learning Collaborative Webinar Schedule
Our members are welcome and encouraged to attend the following webinars that are being offered as part of the CHI Learning Collaborative. All sessions will be held at the St. Mary's County Health Department in Meeting Room 12.
| | |
| --- | --- |
| Webinar | Date/Time |
| Assess Needs and Resources |      Monday, December 14th 1-2:30pm |
| Focus on What's Important and Choose Effective Policies and Programs |      Thursday, January 21st 1:30-3pm |
| Act on What's Important |      Monday, February 8th 1-2:30pm |
| Evaluate Actions |      Tuesday, February 23rd 1-2:30pm |
Missed a session? Catch up here on everything CHI!
CHI Learning Collaborative Webinar Archive
CHI Links and Resources